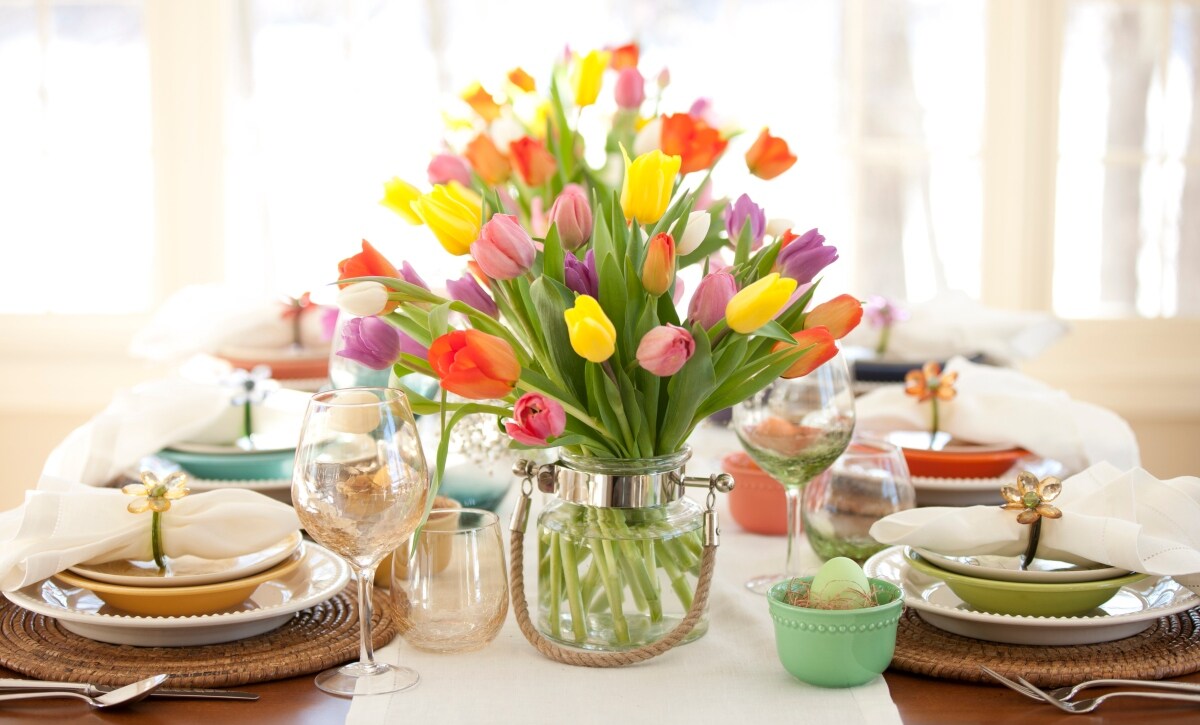 Spring Flowers: The Best Reasons to Send Blooms in April
March 30, 2022
Spring is a season for new beginnings. And what better way to celebrate than by sending spring flowers from Barbara's Flower Shop in Brooklyn, NY? April is full of holidays and special events, and each one offers a unique reason to send blooms. Here are some of our favorite reasons to send April flowers this year along with a few of our favorite flowers for each occasion!
Easter - Sunday, April 17
Easter is a time for family, friends, faith, and flowers! But did you know that Easter is the fourth biggest floral holiday of the year? And while it may not get the same recognition as Valentine's Day, Mother's Day, Christmas, or other national holidays, flowers and Easter plants have long played a very important role in Easter and Passover observances. They are synonymous with the holidays in both home decorations and as gifts.
Our favorites Easter flower arrangements include Easter lilies, tulips, and daffodils. Lilies are popular symbols of Easter as they represent love, hope, and resurrection, making them the perfect gift for this spring holiday. White lilies are especially symbolic during Easter because they signify purity and divinity.
Tulips represent springtime and new beginnings, which makes them an ideal gift for anyone starting a new chapter in their life. Daffodils are associated with springtime and rebirth, making them an ideal gift for someone who has overcome a difficult time. No matter who you are celebrating Easter with, Easter bouquets are the perfect way to show your loved ones how much you care. Easter flower delivery is also available.
Administrative Professionals Day - Wednesday, April 27
Whether you call it Administrative Professionals Day, Admin Day, Admin Pro Day, or even National Secretary's Day, this holiday honors all of the people working behind the scenes in offices and corporations. By recognizing the work of executive assistants, administrative assistants, personal assistants, secretaries, receptionists, customer service specialists, as well as other administrative support professionals. In many instances, this observance lasts an entire week, becoming national secretaries week, or administrative professionals week.
There are many ways to celebrate the administrative professionals in your workplace, but flowers are a foolproof way to make them feel extra special! Some of the best flowers you can send for Administrative Professionals Day include pink or peach roses, daisies, and yellow lilies.
Pink and peach roses represent appreciation and gratitude, making them the perfect way to say "thank you" to your administrative team. Daisies symbolize innocence, loyal love, and purity, making them a great gift for someone you admire and respect. Yellow lilies are associated with happiness and well-wishes, making them a perfect pick-me for professional associates.
Prom - Dates Vary
Prom season is one of our favorite times of year because we love working with excited (and usually nervous) students who may not have ever experienced buying flowers from a professional florist. We know that can be a scary endeavor for teenagers who may not know a lily from a lilac, but fortunately, we're here to help!
Modern prom flowers are available in a variety of different forms but typically consist of a wrist corsage for the ladies and a matching boutonniere for the gentlemen. Traditionally, the colors and flowers used in the prom corsage and boutonniere are matched to the color of the prom dress; but like most rules, this one was definitely made to be broken.
Today's corsages and boutonnieres are limited only by the imagination and the flowers available to the florist. However, it's important to keep in mind that prom night is centered around dancing, so the flowers should not only be beautiful, but also functional enough to withstand an entire evening of festivities.
Mother's Day - Sunday, May 8
While technically not in April, Mother's Day arrives in early May this year as it falls on Sunday, May 8. This holiday is the perfect opportunity to celebrate mothers and show your mom, step-mom, grandmother, or any of the other incredible mother figures in your life just how much you appreciate them.
There are a lot of ways to show your mom you care on Mother's Day. From taking her out to brunch to giving her a day of pampering. But one thoughtful way to make her feel extra special is by sending her flowers. All mothers deserve a beautiful bouquet on their special day, but if you want to go above and beyond, consider sending flowers that have a special meaning.
For example, did you know that red roses symbolize love and appreciation? Pink roses represent gratitude, joy, and admiration, making them the perfect way to say "thank you" for all that your mother has done for you. Yellow roses are associated with friendship and happiness, making them a great gift for mothers who are also friends.
Blue hydrangeas represent understanding and patience - two qualities that all mothers possess. No matter what type of flowers you choose to send your mom this Mother's Day, she is sure to appreciate the gesture!
Whatever your reason, say it with flowers this April with the help of your friends at Barbara's Flower Shop. No matter the occasion, we're here to help you find the perfect gift this spring. Same-day delivery is available in Brooklyn and surrounding areas in NYC, or anywhere in the USA for birthdays, anniversaries, new babies, get well wishes, sympathy, or even just because!